Four key transitions stages that need to be planned meticulously and tread carefully are:  
➢ Start-Up:
The startup stage of a business occurs when a new company launches its first product or when an existing company launches a new division. In either case, leaders of startup businesses are eager to exploit opportunities and feel pressure to deliver results quickly. Further new company startups face some special challenges since leaders of new companies are often technology or product-focused, and they may have little experience with selling, team building, and other related organizational developmental challenges. 
Initiating into entrepreneurship from employment-
Many with strong entrepreneurial desire and game-changing ideas fear treading the path of entrepreneurship, fearing the loss. There are many other instances wherein they have started the venture and finding extremely difficult to address the concerns of many stakeholders. There are many other challenges that these entrepreneurs find difficult and, however, can be resolved with proper guidance.
➢ Growth Planning-Expansion of existing business/Diversification to a new area/adding new locations
Growth can be simply referred to as advancement from a less complicated level to a more complex one, essential in business, and it's one of the major objectives of entrepreneurship. It is the movement of the business into bigger premises, taking on more staff, significant increases in turnover, taking on a new product line or lines, buying another business, and so on.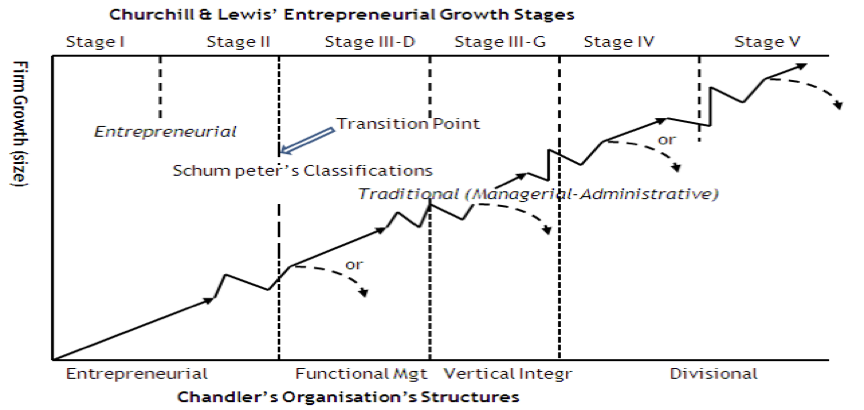 Transforming an entrepreneurially founded company into a large business brings challenges, especially to the founder. If the process is badly managed, this can result in either business failure or stagnation. The growth stages of a company, from start-up to resource maturity, is complex, it brings in formalized structures and decentralization of power.
Planning for growth into the uncharted territory of the growth phase is easier but more horrifying than the start-up stage. We also observed that many entrepreneurs turn to advisors so much that they choose to be blind trusting advisors to guide them. This also resulted in suffering bankruptcy and loss of face in society. Many entrepreneurs with great successful products/services choose not to venture into growth, fearing loss.
Selection of the right advisor is crucial; equally important is to be clear about the expected outcome and path to realize it.
A good financial planning document is a must for a successful transition. Without this, entrepreneurs are likely to lose direction. (What are the attributes of Good financial plan?)
➢ Succession Planning
Many entrepreneurs with family-owned or closely held businesses say the most difficult challenges involve deciding who will succeed the current generation and how to preserve and build the company's value by providing a smooth transition of ownership and management.
The succession plan may involve one or more of the following:
Transferring the business to your children or other family members.
Selling the business, or your portion of the ownership, to co-owners, where applicable, or some or all of the employees.
Taking a co-owners (may be an employee or outsider)
Selling the business to a third party.
Selling a significant portion of the company to the general public via a public offering or another creative exit strategy.
BUSINESS SUCCESSION PLANNING CHECKLIST
➢ Contingency Planning
Many do not have a contingency plan whether they own a business or not. In case of an accident or illness, the contingency plan provides financial resources to ensure your survival. It informs the stakeholders how your business will be looked after and who will be in charge.
The transition should be a conscious and deliberate process. It is advisable to be a documented one, so there will not be any ambiguity and uncertainty among stakeholders, the target will be measurable, and deviations will get quickly flagged. Enlisting a proven specialist in drafting a transition plan is desirable.